Making Father's Day Memorable with Escape To VR. Free Roam Action and Escape Room Games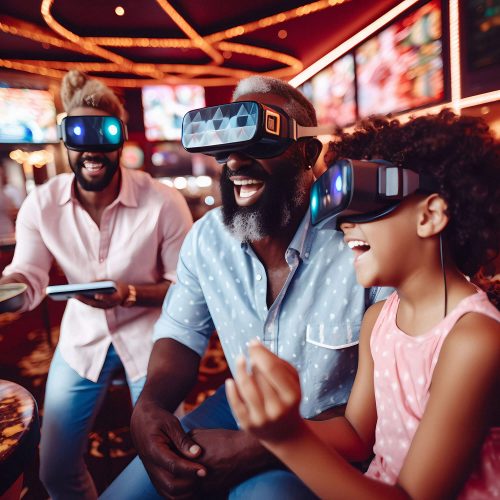 Father's Day is just around the corner, and what better way to celebrate than by creating unforgettable memories with your dad?
This year, step outside the traditional gift-giving routine and embark on an exhilarating adventure at Escape To VR Carlsbad. Treat your dad to an immersive experience of free roam action and thrilling escape room games that will leave him amazed and thrilled. Get ready for a Father's Day celebration like no other!
Unleash Your Inner Heroes
At Escape To VR, you and your dad can become the heroes of your own virtual worlds. Gear up with cutting-edge VR equipment and step into immersive free roam action games. Fight off zombies, solve challenging puzzles, and navigate through mind-bending scenarios together. It's a chance to bond, strategize, and experience an adrenaline rush like never before.
Engaging Escape Room Challenges:
Put your problem-solving skills to the test with Escape To VR's captivating escape room games. Choose from a variety of intricately designed themes and work together with your dad to unravel mysteries, decode clues, and beat the clock. Each room offers a unique storyline and immersive environment that will keep you on the edge of your seat. Can you escape in time?
Unforgettable Father-Daughter/Father-Son Bonding
Escape To VR Carlsbad provides the perfect setting for quality father-child bonding time. Step into a world where real-world boundaries fade away, and you and your dad can connect on a whole new level. Collaborate, communicate, and celebrate each small victory as you conquer challenges and overcome obstacles together. The shared experience will create lasting memories that you'll cherish for years to come.
We also have a walkthrough haunted experience with Hospital of Horror. Are you alone in the hospital? No one really knows…The Hospital Of Horror is not a game, It's an experience. There's no winning or losing because once you've entered you already lost. Prepared to be scared for this entire ten minute adventure. You and your friends will walk around the abandoned rooms and ride the elevator, but how abandoned is this hospital really?
Maybe your version of scary is in the empty vacuum of space. In Eclipse up to 4 players embody the crew of Eclipse II. Your group is tasked with discovering what really happened to the previous space crew which you have lost communication with. What could those sounds be and how do you get out safely? You are separated into two teams to figure out the answers and hopefully escape the same fate.
Also available is Dead Ahead, a zombie shooter cooperative game where you work together as a team to destroy waves of zombies. This game is action based with arcade style shooting and graphics. Beware of the undead charging through the barriers and jumping onto you as your team makes their last stand. Do you have what it takes to survive the apocalypse?
All of these VR experiences take place in our large 400sf arena where your group is free to roam together. Our wireless VR technology allows players complete freedom to move around the virtual space. There is no need for 'joystick' or 'teleporting' movements and only one button is used. Virtual reality is great for anyone regardless of gaming experience or knowledge. We recommend children be at least 8 years old to enjoy the experiences.