Escape to VR Carlsbad: A Couples' Adventure Like No Other!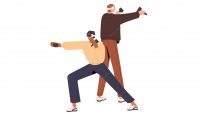 Ready to embark on a thrilling virtual reality experience that will take your relationship to new heights? Look no further than Escape to VR, the ultimate couples' escape!
Immerse yourselves in a world of excitement and adventure as you and your partner step into the realm of virtual reality. With cutting-edge technology and mind-blowing visuals, Escape to VR offers an unforgettable journey that will leave you breathless.
Together, you'll explore captivating virtual landscapes, solve challenging puzzles, and conquer daring quests. From solving mysteries in ancient ruins to surviving adrenaline-pumping adventures, each virtual reality scenario is meticulously crafted to test your teamwork and ignite your sense of adventure.
At Escape to VR, you can enjoy the thrill of heart-pounding action, solve intricate puzzles, and experience the wonders of fantasy realm. This immersive experience is designed specifically for Free-Roam VR, allowing you to bond, communicate, and strategize as you navigate through the virtual world together.
Escape to VR offers a variety of thrilling experiences, ensuring there's something for every couple. Whether you're seeking an adrenaline rush, a mind-bending challenge, or a journey into a different universe, the possibilities are endless.
Discover the magic of virtual reality and create memories that will last a lifetime. Escape to VR is not just an Escape Room it's an extraordinary adventure for couples seeking excitement, connection, and a break from the ordinary.
Book your Escape to VR experience and let the virtual world ignite the sparks of love, thrill, and endless fun. Unleash your imagination, conquer challenges together, and make your couple's escape an unforgettable reality.
We also have a walkthrough haunted experience with Hospital of Horror. Are you alone in the hospital? No one really knows…The Hospital Of Horror is not a game, It's an experience. There's no winning or losing because once you've entered you already lost. Prepared to be scared for this entire ten minute adventure. You and your friends will walk around the abandoned rooms and ride the elevator, but how abandoned is this hospital really?
Maybe your version of scary is in the empty vacuum of space. In Eclipse up to 4 players embody the crew of Eclipse II. Your group is tasked with discovering what really happened to the previous space crew which you have lost communication with. What could those sounds be and how do you get out safely? You are separated into two teams to figure out the answers and hopefully escape the same fate.
Also available is Dead Ahead, a zombie shooter cooperative game where you work together as a team to destroy waves of zombies. This game is action based with arcade style shooting and graphics. Beware of the undead charging through the barriers and jumping onto you as your team makes their last stand. Do you have what it takes to survive the apocalypse?
All of these VR experiences take place in our large 400sf arena where your group is free to roam together. Our wireless VR technology allows players complete freedom to move around the virtual space. There is no need for 'joystick' or 'teleporting' movements and only one button is used. Virtual reality is great for anyone regardless of gaming experience or knowledge. We recommend children be at least 8 years old to enjoy the experiences.